The Trevi Fountain on Fire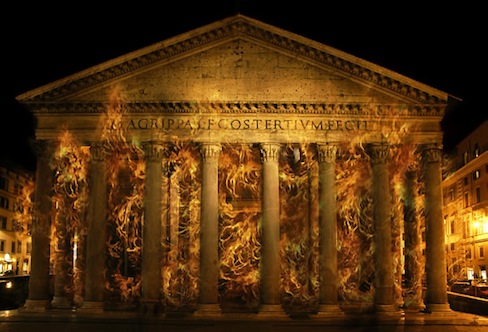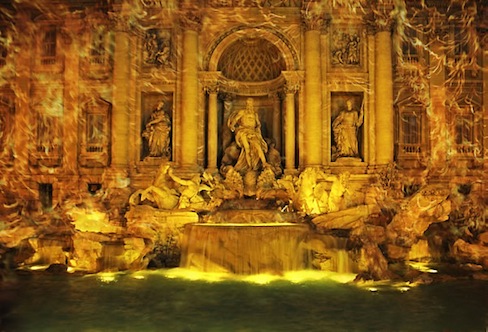 Rome, Italy, New Year's Eve, 2005
Removal of the Old
On New Year's Eve Thyra Hilden and Pio Diaz project moving flames on the Trevi Fountain in Rome. Naturally stone cannot burn, but the symbolism is evident: the artists illustrate terrorist acts and cultural destruction. Their work is not aggressive. They create a beautiful symbol of destruction at a time when Europe is at war. Both Italy and Denmark have troops in Iraq.
Destruction is part of our culture; stories of creation speak of the need to remove the old so that new things can arise. Phoenix was born again from the ashes. Evolution is progress and the motivating force is selective. Sometimes it is necessary to depart from the wisdom and monuments of the past. Hilden and Diaz toy with this idea and so it is obvious to make this project in Rome – the city of cities and the cradle of Western culture. The Pantheon, Colosseo and the Trevi fountain are all part of the European cultural canon. The Trevi Fountain is known by most. If not for its value as an ambitious Baroque architectural project, then for Anita Ekberg's dip in the Fellini film La Dolce Vita from 1960. Tourists of today visit the monument to throw coins in the fountain and pray for fortune.
It is a strong point to project flames onto a fountain with a figure of Neptune, who controls the rivers and the water supply of Rome.
Starting afresh
Also for other reasons Italy is an obvious 'backdrop' for the project City on Fire. It was here that a group of Milanese intellectuals 100 years ago preached about the crucial denial of the past. They glorified industrialization and saw war as society´s only hygiene. Preferably they would bomb every museum and symbol of historical cultural value. The futurists, as they called themselves, had a strong belief and were very impatient.
Futurism was founded on a dream of reaching and enjoying the future as fast as possible. The futurists felt threatened by the culture of the past – as the Taleban warriors also felt threatened by the statues of Buddha in Afghanistan. History has seen numerous brutal acts and destruction of cultural icons, like the book burnings in the Middle Ages and during the Nazi regime. It looks as if paradigm shifts require fanatical and radical actions. The artists, who project flames on historical monuments in Rome, trigger thoughts of these destructions in the name of culture. Simultaneously they prompt an intriguing feeling of breaking links with the past and starting afresh in the New Year.
Other places in Rome we would like to burn in the near future: