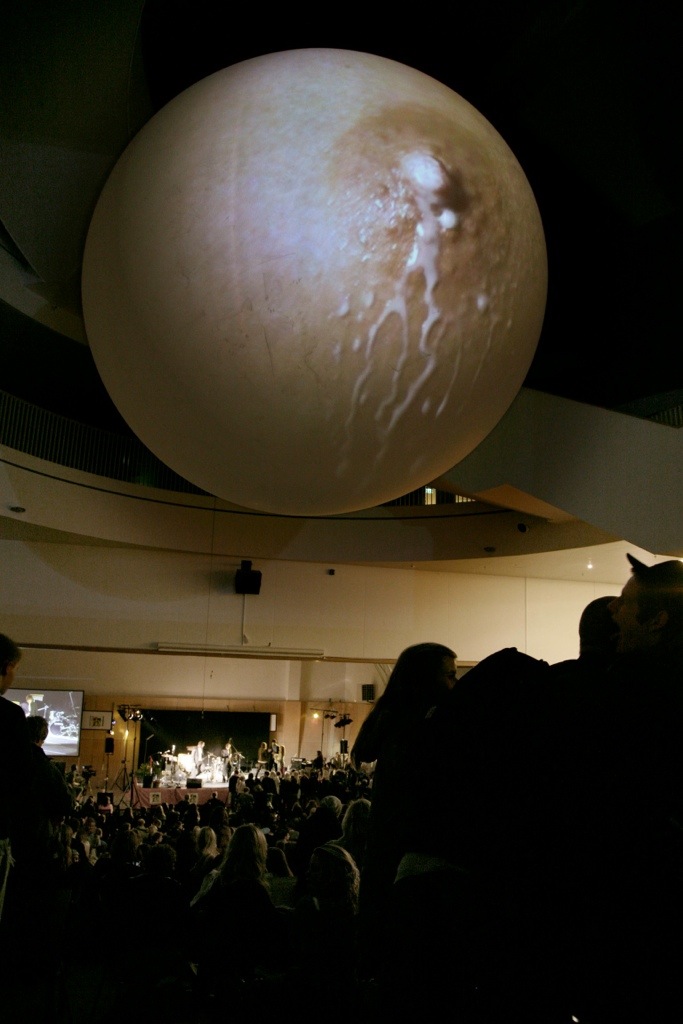 -A reminder that fertility is not simply a given gift by Caroline Levisse
People passing by or entering Ørestad High School will get a real surprise: a giant breast with milk progressively flowing out of the nipple is hung in the entrance hall. This immense (the balloon is 9 meters of diameter) and fascinating video-installation, called Venus of Willendorf, is the last creation of the Danish-Argentinean couple Venus of Willendorf, which is at once entertaining and deeply meaningful.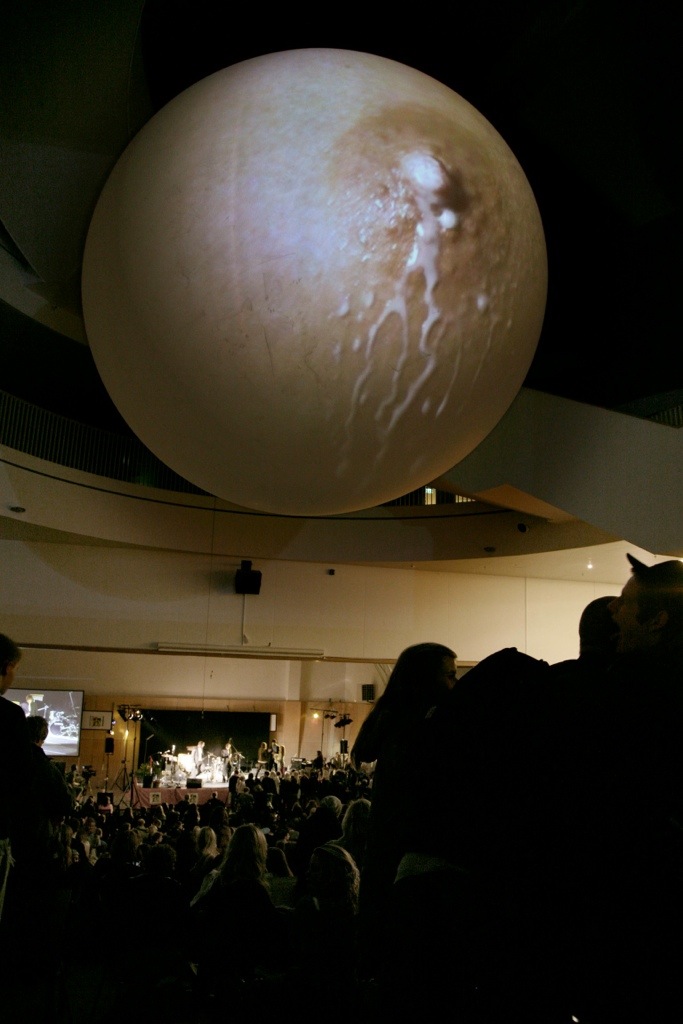 If City on Fire deals with fire as an archetype, the present installation is another attempt to address a universal concept, fertility. Their source of inspiration is not of the least importance; indeed, Hilden and Diaz reinterpret one of humanity's first images, a true cultural icon: the Prehistoric sculpted figure of the "Venus of Willendorf" (24.000- 22.000 years BC). This reinterpretation is significant in the context of the group show "Glowing Climate" organized by Illumenarts and in link with COP15, the UN Climate Change Conference (Copenhagen, Dec. 7-18, 2009). While the politicians and officials from around the world will discuss the use of the planet's resources, Hilden and Diaz propose a reflection on the meaning of fertility in our postindustrial society, not in a museum but in a place dedicated to the young generations, that is to say the future decision makers. The fertile roots of humanity
The Venus of Willendorf is an archetype, a universal concept, something that we all share as human beings: nature and nature's most prominent characteristic, fertility. Therefore, Venus of Willendorf connects us altogether and transcends our historical and cultural differences. Since the beginning of humanity, nature as a giving force has constantly been represented with large or multiple breasts, they are the symbols of its fertility and abundance. Hilden and Diaz have chosen to show only one breast, which has the shape of a globe, making explicit the link between woman's fertility and earth's fertile ground. But as all archetypes nature has a dual nature, it fascinates and scares us at the same time because it gives but it also takes away. Venus of Willendorf is not merely a celebration of nature's generous resources; there is also something uncanny or uneasy about this out-of-scale single breast, which sometimes stops giving milk.
Greed as a decadent path toward sterility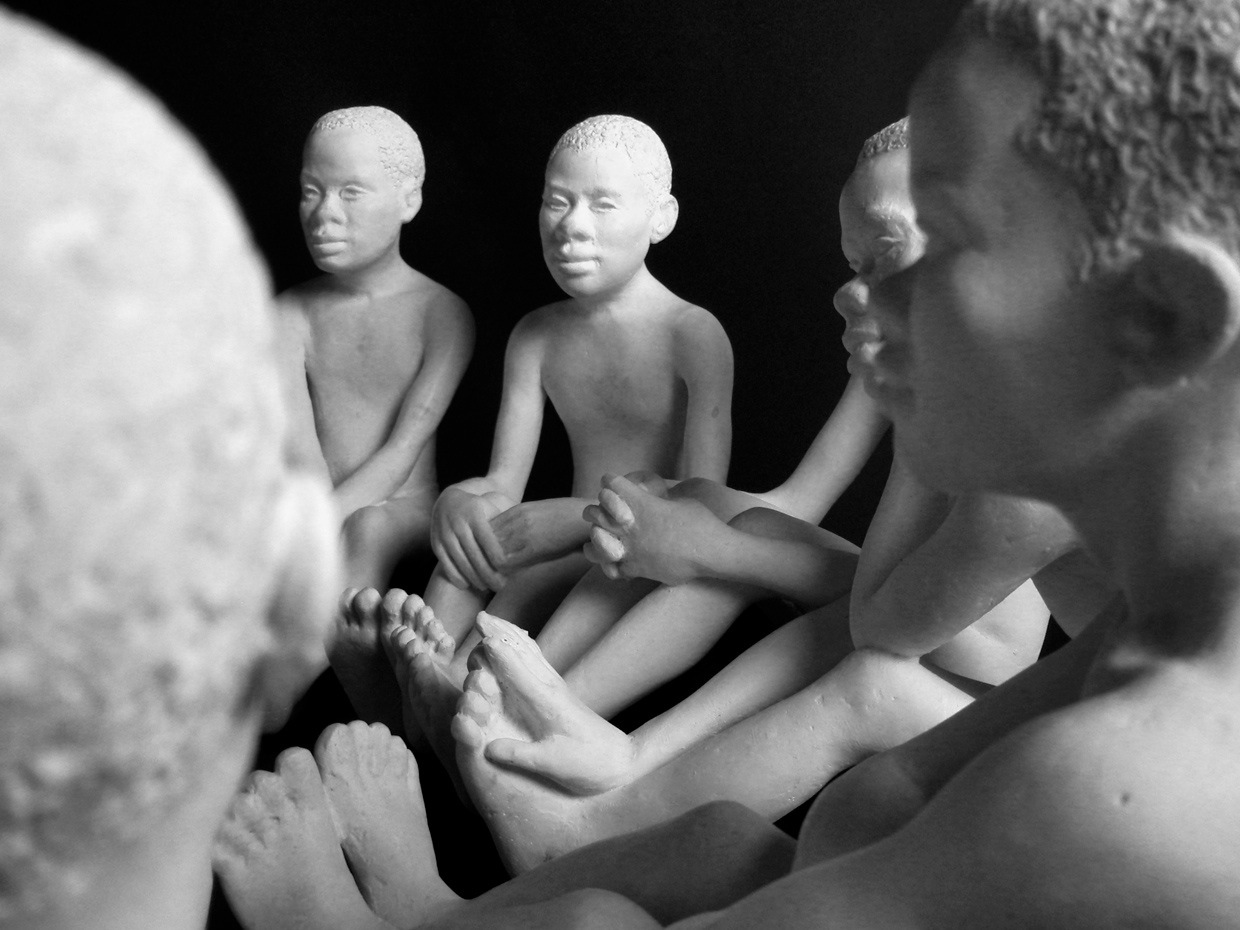 Fertility is at the very core of humanity's survival and has always been a concern for human beings. During some periods, for instance the Prehistory, it was a crucial issue, while at some other times it was pushed back in the shadow. Today, fertility has become again an important matter as it is endangered by two centuries of industrial lifestyle in the West. Resources are becoming scarcer and sterility seems to be increasing supposedly caused by pesticides, radio-waves and other creations of the rich societies. For the sake of advancement and progress, we might have pulled nature's giving power too hardly; we are literally sucking it dry. Of course, the purpose of Hilden and Diaz's Venus of Willendorf is neither to accuse us individually nor to state that technological advancement is bad per se; rather, through this weird and fascinating encounter with a single immense breast, we are invited to reflect on our desires of instant satisfaction, our need to always have more, and the way in which we are using natural resources.